For a Software Product company, People are the valuable assets. To keep the business sustainable, we need to take care of the workforce, upskill them and retain the talent. As the years pass by, besides all efforts to retain existing workforce, there will be a churn due to various reasons – personal, circumstantial and business related. You need to reinforce your workforce with new people to:
Refill the open position due to the exit of existing team member
To grow your business, build new features, products, extend support to customers, market etc
Refilling a position cannot be an overnight activity unless there is an emergency. Any business should be prepared for emergencies by having a possible back up. Even experienced professionals cannot replace immediately as there is always a learning curve to get up to speed for the opened-up position.
It is not practically viable to always hire experienced people for all the positions in an organization and on the other hand one cannot run the business with all junior people. There should be a right mix of talent at all levels. Having a strong supply at the bottom layer provides any organization with multiple benefits:
Add young and energetic talent
Can train them easily on the business needs of the organization
They can scale up over a period
Moulding them into the organizational culture is also easy
Running operations in India, which is a major supplier of Knowledge workforce to many businesses worldwide, there are a lot of opportunities to hire talent. Many organizations partner with professional educational institutions to hire, train and intake fresh talent. It is important to find a right partner for this engagement. Not all engagements between businesses and institutions become successful. There are various factors:
The stage in which the business is – opportunities, needs, scale, revenue, funding, possibility to invest in hiring
The stage at which the institution is – are the really welcoming, trusted partner, serious about supplying and supporting needs of businesses who approach them for talent
The mindset of students – honour the offer made, respect the opportunity, passion for career, belief in the organization
In the past, we tried various recruitment and training methodologies and finally resorted to partner with an engineering college, like what most of the MNCs do. We were trying to reach out to multiple institutions, though all were really welcoming, we found a right partner with (SECE) Sri Eshwar College of Engineering, Coimbatore
The management was very approachable, listen to our requirements and take necessary actions to support to train their students for our needs
Faculty members of the college extend valuable support in grooming the fresh talent based on the training requirements we share
Students respect and understand the potential opportunity that lies ahead with a growing and promising organization like us
The institution has got a lot of initiatives to provide industry-student linkage. They invite organizations to set up Centre of Excellence, labs, extended office as a remote location. We have signed an MoU and set up a Center of Excellence with them since 2017.
We struck a right sync with this institution for our growth at this stage and decided to recruit fresh graduates from this institution. In 2017, we hired 5 students and they underwent rigorous training which helped them to be readily deployable into products – Serverless360, Atomic Scope, and Document360. Within a few weeks into their job, their contribution is being used by multiple enterprises across the world.
Here are few throwbacks to the 2017 recruitment drive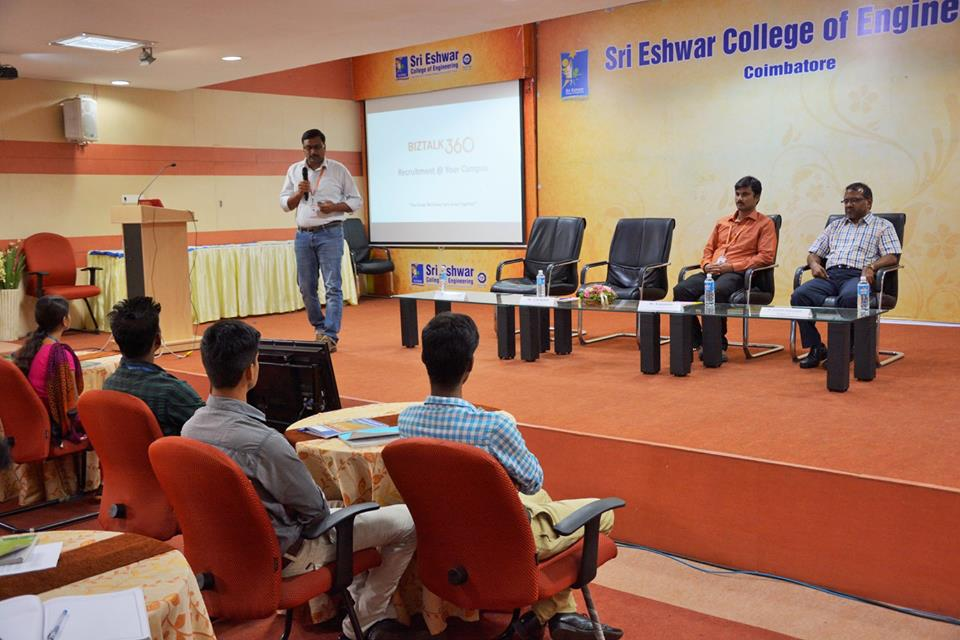 Organisation overview to the aspiring candidates
Candidates taking up the programming challenge at SECE IT Center
Personal Interview

2018 batch – welcome aboard BizTalk360
We came back to this institution again in 2018 for our future requirements.
Prior to the interview process, here are the messages that 2018 batch sent to the prospects from 2019 batch.
Based on our plans to market our products and exploring how other product companies work, this year we also came up with a new role – Technical Product Marketing and we offered an internship to two students. Within a couple of days, those interns showed very good capabilities to explore Serverless computing and they came up with a blog:
Serverless Computing and Enterprise Application Integration (EAI)
Basics of Serverless Computing
For the Software Engineer requirement, we considered various factors to assess the candidates:
Cumulative performances in programming activities in their academic period
Performance in Logical Reasoning and programming using a testing platform
Approach to few problems by identifying right Data Structures & Algorithm
Interview on programming knowledge
Capability to explore latest technologies – Cloud Computing, Azure Integration Services, Serverless Computing
Personality assessment
After rigorous assessments, we offered 4 candidates (in banner image) to join us as interns from late 2018.
We extend all the selected candidates a warm welcome and promise them a wonderful career!