This post was originally published here

A typical highly available BizTalk Server group contains one or more BizTalk Servers. We have witnessed some of the complex BizTalk Server environment handling high volume traffic having an infrastructure similar to the one shown below with 6 BizTalk Server and 3-4 SQL Servers.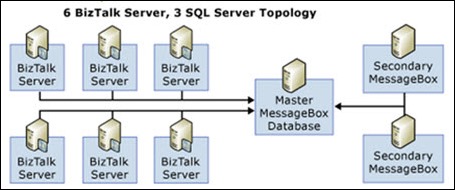 There are 2 main reason for having multiple BizTalk Server is the group
Scalability
Resilience/High Availability
Scalability: The more servers you have in the group means more processing power. You can create multiple BizTalk Server Host and Host Instances in each one of the available servers and increase the volume of messages you can process.
Resilience/High Availability: If you wanted to make sure the environment is highly available, you need to have at least 2 BizTalk Servers in the group and also need to carefully plan how the host/host instances are configured to make sure if one server goes down it doesn't bring the whole environment down.
Why do you need this?
As a BizTalk Administrator you need to make sure all of your BizTalk Servers are up and running and processing messages at expected level. In the above 6 server configuration, there is a possibility one of the BizTalk Servers goes down and no one really notice it for a long period, until the environment itself becomes a bottle neck. In smaller environments (ex: 2 BizTalk Servers), it becomes super important to make sure your BizTalk Servers are up and running all the time to avoid down time or react to down time quickly.
To address these challenges we are introducing BizTalk Server Availability monitoring in BizTalk360 version 8.5.
As always, one of the core strength of BizTalk360 for monitoring BizTalk Server environments is we wanted to make it super simple and great user experience to configure things. It will literally take less than 2 minutes to setup BizTalk Server Availability Monitoring in-spite of the complexity of your environment.
The above screen show how you can configure the availability monitoring for a 2 BizTalk Servers group. The servers are already listed, you simply need to select them and click the "Enable Monitoring" button. (PS: You need to understand the concept of Alarms in BizTalk360)
Protocol Type: In order for us to check the availability we need to reach the servers, we support "Ping" and "Telnet" to achieve this, one of these protocols need to be enabled.
Monitor Availability (either all or one of them)
This is very important and very specific to BizTalk Server availability monitoring. You can choose the option to alert either if one of the BizTalk Server is the group has gone down or alert only when all of the servers in the group has gone down. The first one is useful if you know there are intermittent issues and the server will come back online after some time and there is no need to alert the teams unnecessarily.
Give it a try on your own environment by downloading a 14-day free trial of BizTalk360.