This post was originally published here

Introduction
This blog is an extraction of the session "BizTalk Server 2020 – Migration Path" presented by Sandro Pereira at Integrate 2020.
Back in January 2020, Microsoft announced the availability of BizTalk Server 2020 for public release with lots of exciting features and enhancements. It's the time to migrate to the new version to enjoy the features. Sandro, Microsoft Azure MVP talks about the upgrade process, key information, and step-by-step instructions for upgrading from any of the previous BizTalk Server version. It also covers the reasons to upgrade to BizTalk Server 2020.
Why should you upgrade your BizTalk Platform?
People in the Integration space would always remember the BizTalk stickers that they receive from Sandro and here it is for BizTalk 2020.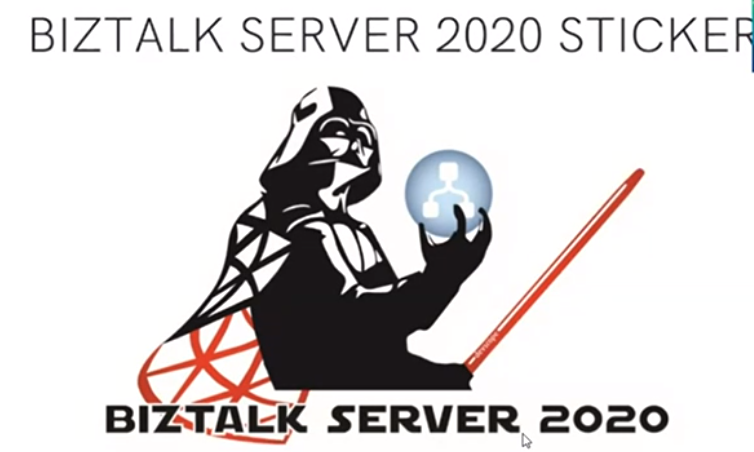 Here are a few reasons:
Lots of support

If you are in an older version of BizTalk, then it's time for you to migrate for continuous support especially the Enterprise clients.

Environmental constraints

BizTalk Server heavily depends on performance of the Windows server and SQL server. It's time to upgrade for better performance
New features

Every release of BizTalk comes with a bunch of exciting features for Hybrid Integration
Support for TLS 1.2
Support for XSLT 3.0 which is a feature asked for many years
More privacy and security for GDPR

Feature packs

New features can be added through the feature packs, so you need not wait for 3 to 4 years for the new features

Move to cloud

Ability to run on Azure VM as IaaS

Administrator and Developer productivity enhancements

New Visual Studio console features
What are the migration options?
Migrate to Azure
Migrate to BizTalk Server 2020
Migrate to Azure
Hosted Azure Servers

This is the easy option as most of them run BizTalk on the Azure VMs. There are options of high availability and, they can be hosted in various regions.

Migrating to Azure Services
This is completely moving out of BizTalk. All the BizTalk related artefacts will be migrated to the Azure services. It is a complete redesign of the Integration solution. For example, there will be no MessageBox and Service Bus needs to be used to persist the messages. It is a difficult option even with the new BizTalk Migration Tool.
BizTalk Server has a rapid release cadence of major version every 2/3 years with radical changes. Azure is completely different. BizTalk server with the long release history is very stable. On the other hand, there is release for Azure every week and the features get deprecated. There is no one to one mapping in Azure. The process on arrival needs to be improved in Azure. There are some interesting options still missing in Azure like Business Rules.
BizTalk 2020 Migration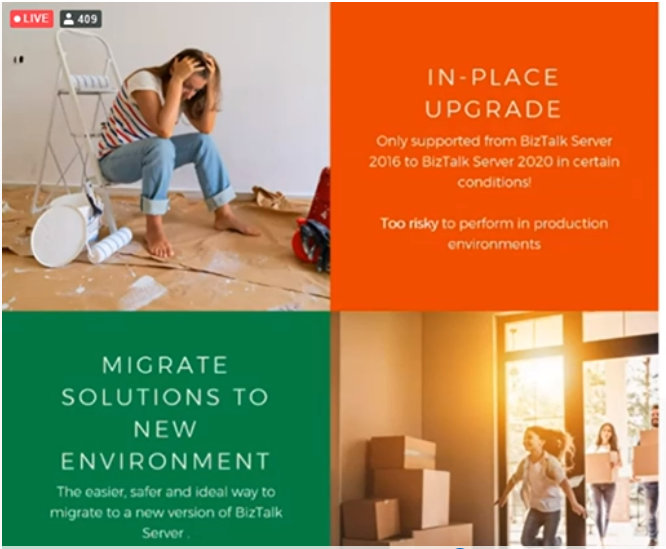 In- Place Upgrade
Here is the list of the supported and unsupported migration options: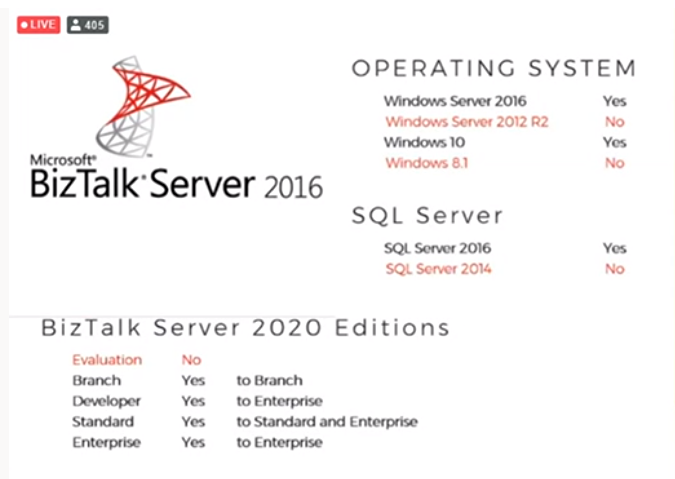 There are few constraints like the SQL Adapter that has been deprecated, TIBCO Enterprise Message Adapter has been removed and the RosettaNet has issues in BizTalk 202 for which the hotfix needs to be installed for smooth functioning.
Migrate to the brand-new environment
The AS-IS migration
This is without any non-mandatory changes. The .Net framework needs to be changed, the deployment properties need to fix and the solution to be rebuilt.
Migrate and Improve
This needs to be done on the analysis of the business requirements and what needs to be improved on the solution side. This requires more prolonged version of testing as lot of improvements would be added and for the integration between different teams.
With his experience of more than 16 years working in BizTalk, Sandro shares the statistics on the effort of different migration options.
There are some pain points while migrating the BizTalk Server artifacts/components.
Mappings will be critical
Older versions are difficult to migrate
SAP adapter is removed. So, all generated schemas need to be recreated
EDI might have problems. Because of TPM, parties cannot be directly migrated. You will need to use the BizTalk Server Party Migration Tool
BTDF is not available
RFID and Human workflows are removed
BRE is a simple export/import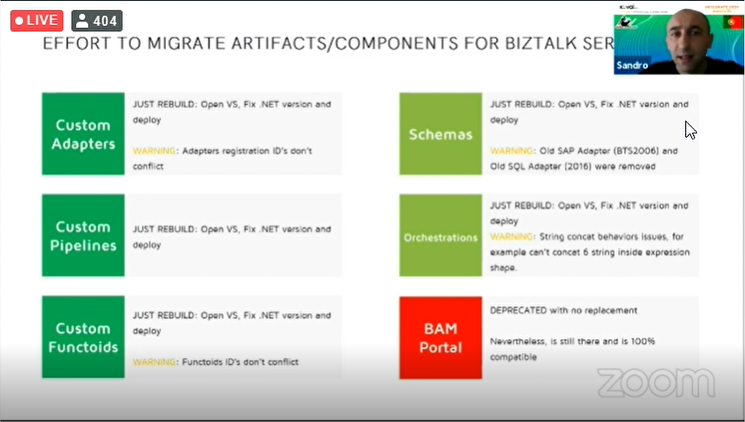 How easy is the migration from the older versions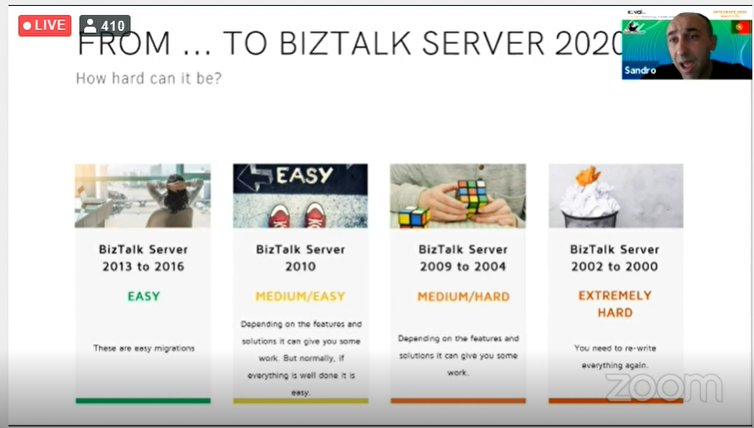 Wrap Up
Hope the insights on the BizTalk Server 2020 gives a clear picture on the migration path. Sandro and Tom Canter are working on the book on the BizTalk2020 Migration which would be available soon.
Happy migrating!
The post BizTalk Server – 2020 Migration Path appeared first on BizTalk360.